YOGYAKARTA (also called Yogya or Jogja) is located in the middle of the island of Java. It is a very affordable place to live as a student. With only $20 per day, you are able to stay, eat famous, authentic, delicious food, and rent a motorbike to explore the pure beaches and thousands of years old ancient temples.
A thousand years ago, Yogyakarta was the center of the ancient Syailendra kingdom which was prosperous and highly civilized. This kingdom built Borobudur Temple which was the biggest Buddhist temple in the world, 300 years before Angkor Wat in Cambodia. Some other relics are Prambanan Temple, Ratu Boko Palace, and dozens of other temples scattered throughout Yogyakarta. The Ancient Mataram Kingdom moved its central government to East Java in the 10th century. The magnificent temples were abandoned and partially buried by the eruption material of Merapi Volcano. Slowly, Yogyakarta region became a dense forest. Six hundred years later, Panembahan Senopati established the Islamic Mataram Kingdom in the region.
Once again, Yogyakarta witnessed the history of a great kingdom that ruled Java Island and its surrounding areas. The Islamic Mataram Kingdom left a trail of ruins of the fortress and royal tombs in Kotagede which is well-known as the center of silver handicraft in Yogyakarta. The Giyanti agreement in 1755 divided the Islamic Mataram Kingdom into Kasunanan Surakarta (based in Solo) and the Yogyakarta Sultanate (founded in Yogyakarta).  The Kraton (Palace) still exists today and functions as the residence of the Sultan and his family as well as hundreds of Abdi Dalem (the servants of the palace) who faithfully serve the palace voluntarily and run the tradition in the midst of changing times. At the palace, there are many cultural performances such as wayang kulit (puppet shadow play), gamelan (Javanese orchestra), and Javanese dances.
Jogja Tourism
Because of its proximity to the Borobudur and Prambanan temples, and because of the Javanese court Kraton culture of Kraton Yogyakarta, Yogyakarta has become an important tourist destination in Indonesia. Most tourists come to Yogyakarta as an accommodation base to visit Borobudur and Prambanan. At tourist sites, you may meet high school students who look forward to having a conversation in English with you to polish their language skills.
Nine rock sites in the Yogyakarta area have been declared as geo-heritage sites.
Eocene limestone at Gamping in Sleman
Pillow lava at Berbah in Sleman
Prehistoric volcanic sediment at Candi Ijo in Sleman

Prambanan in Sleman
Sand dunes at Parangtritis in Bantul
Kiskendo cave and a former manganese mining site at Kleripan in Kulon Progo

Nglanggerang prehistoric volcano in Gunung Kidul
Wediombo- Siung Beach in Gunung Kidul
A bioturbation site at Kalingalang near Wonosari in Gunung Kidul.
Other sites
Kalisuci Cave in Semanu, Gunung Kidul
Pindul Cave in Gunung Kidul
Jomblang Cave in Gunung Kidul, a pit cave with 2 holes 60 meters and 80 meters deep, where tourists can explore guided by a local tour operator company.
Timang Beach in Gunung Kidul
Krakal Beach in Gunung Kidul
Student Live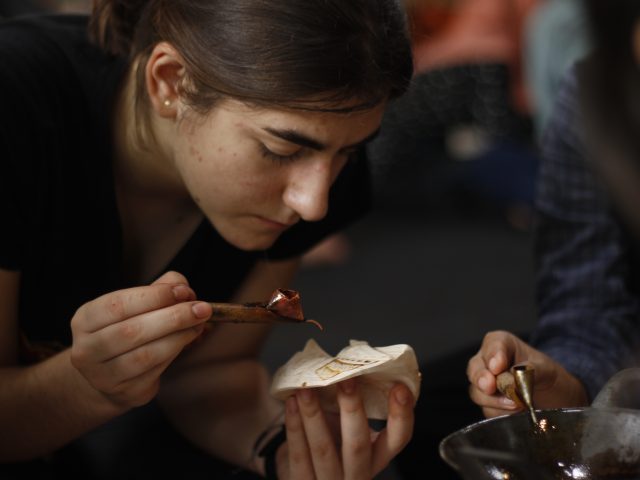 Universitas Muhammadiyah Yogyakarta encourages students to have a good balance between personal and professional life. For this purpose, we help students to set up various student organizations known as student clubs. These student clubs are engaged in both academic and non-academic activities. They are named after their activities: Football Club, English Club, Band Club, Choir Club, Entrepreneur Club, Nature Lover Club, and many others. All students are most welcome to join a club they are interested in. 
Before You Arrive
The rupiah (IDR) is the official currency of Indonesia. Banknotes are issued in denominations of 1,000 , 2,000 , 5,000 , 10,000 , 20,000 , 50,000 and 100,000 rupiah, while coins come in 1000, 500, 200 and 100 rupiah. Coins are not especially common in tourist areas as most prices are multiples of 1,000 rupiah.
ATMs are available in many parts of Yogyakarta – ensure you inform your bank before travelling abroad, and be aware you may be charged for cash withdrawals. It is advisable to exchange some cash before arriving in Yogyakarta. ATMs are prevalent in Yogyakarta and accept most international cards. Credit cards such as Visa, AMEX or Diner's Club are accepted at some establishments. Money changers are available at a number of locations including hotels, though hotels invariably offer the worst rates. Banks are the best places to exchange cash and traveller's cheques as they offer the best rates without the hefty commission fees that other places may charge.
Monthly Expenses (Rp)
Accommodation - Rp. 600.000 ($45)
Food - Rp. 530.000 ($40)
Books and Study Materials - Rp. 400.000 ($30)
Clothes, Laundry, Utilities - Rp. 200.000 ($15)
Recreation - Rp. 530.000 ($40)
Other - 400.000 ($30)
Total - Rp.  2.660.000 ($200)

After You Arrive
Traditional markets and handicraft centers are numerous in the city where some of them located by the malls which are no less hectic.
Malioboro Street
Malioboro is located in the center of Yogyakarta and within walking distance from StasiunTugu (Tugu Railway Station). It is the most famous street in Yogyakarta. Located in the heart of Yogya, this is the city's main street and was once the ceremonial avenue for the Sultan to pass through on his way to and from the Keraton. Along this street, we can find many stores sell primarily batik, accessories, and traditional handicrafts.
During particular occasions, Malioboro would be festively decorated with flowers. Some say that the name Malioboro" derives from the name of the British governor Marlborough from the era when Britain ruled the archipelago, between 1811-1816. Carnival and the events taking place in the area of Malioboro are normally incidental to the performance time that is uncertain. But there are some activities that are regularly held every year such as Jogja Java Carnival that is always held every October, the Yogyakarta Arts Festival in June to July, and the Chinese Cultural Week held close to the celebration of Chinese New Year (Imlek).
Beringharjo Market
Beringharjo market becomes part of Malioboro that is worth visiting. This market has been the center of an economic transaction since the foundation of Ngayogyakarta Hadiningrat Kingdom 1758. Its existence has philosophical meaning. The market that had been renovated several times symbolizes stages of human life that are busily engaged in its economy fulfillment. Furthermore, Beringharjo is also one of the "four in one" poles (consisting of South Square, the Palace, North Square, and Beringharjo market) symbolizing economy functions.
The area where the current Beringharjo market lies used to be a forest of banyan trees. In 1925, the transaction place had a permanent building. The name "Beringharjo" was given by Hamengku Buwono IX meaning that the place where banyan tree (bering) used to grow is expected to bring welfare (harjo). Now, tourists define this place as an enjoyable shopping place.
If you want to buy batik, Beringharjo is the best place because of its complete collections; ranging from batik cloth to batik clothes made of both cotton and silk materials, with the prices ranging from tens thousands to millions. It also offers merchandises, traditional snacks, Javanese herbs, to Buddha figures.
Mirota Batik
Mirota Batik is a local souvenir shop just across Beringharjo Market. It's a 3-level building that is always crowded with shoppers. There are many stuff you can find here, such as art craft made from wood or silver, batik clothing, bags in batik motive, house decorations, shoes and sandals, unique hats, mats, ashtray, aromatic scent oil, incense, tea leaves, and snacks. You can find almost any souvenir you need from Yogyakarta to bring home. They are all in fixed reasonable price. So, when you are too lazy or not good in bargaining, it is a highly recommended place for shopping.