YOGYAKARTA (also called Yogya or Jogja) is located in the middle of the island of Java. It is a very affordable place to live as a student. With only $20 per day, you are able to stay, eat famous, authentic, delicious food, and rent a motorbike to explore the pure beaches and thousands of years old ancient temples.
A thousand years ago, Yogyakarta was the center of the ancient Syailendra kingdom which was prosperous and highly civilized. This kingdom built Borobudur Temple which was the biggest Buddhist temple in the world, 300 years before Angkor Wat in Cambodia. Some other relics are Prambanan Temple, Ratu Boko Palace, and dozens of other temples scattered throughout Yogyakarta. The Ancient Mataram Kingdom moved its central government to East Java in the 10th century. The magnificent temples were abandoned and partially buried by the eruption material of Merapi Volcano. Slowly, Yogyakarta region became a dense forest. Six hundred years later, Panembahan Senopati established the Islamic Mataram Kingdom in the region.
Once again, Yogyakarta witnessed the history of a great kingdom that ruled Java Island and its surrounding areas. The Islamic Mataram Kingdom left a trail of ruins of the fortress and royal tombs in Kotagede which is well-known as the center of silver handicraft in Yogyakarta. The Giyanti agreement in 1755 divided the Islamic Mataram Kingdom into Kasunanan Surakarta (based in Solo) and the Yogyakarta Sultanate (founded in Yogyakarta).  The Kraton (Palace) still exists today and functions as the residence of the Sultan and his family as well as hundreds of Abdi Dalem (the servants of the palace) who faithfully serve the palace voluntarily and run the tradition in the midst of changing times. At the palace, there are many cultural performances such as wayang kulit (puppet shadow play), gamelan (Javanese orchestra), and Javanese dances.
Jogja Tourism
Because of its proximity to the Borobudur and Prambanan temples, and because of the Javanese court Kraton culture of Kraton Yogyakarta, Yogyakarta has become an important tourist destination in Indonesia. Most tourists come to Yogyakarta as an accommodation base to visit Borobudur and Prambanan. At tourist sites, you may meet high school students who look forward to having a conversation in English with you to polish their language skills.
Nine rock sites in the Yogyakarta area have been declared as geo-heritage sites.
Eocene limestone at Gamping in Sleman
Pillow lava at Berbah in Sleman
Prehistoric volcanic sediment at Candi Ijo in Sleman

Prambanan in Sleman
Sand dunes at Parangtritis in Bantul
Kiskendo cave and a former manganese mining site at Kleripan in Kulon Progo

Nglanggerang prehistoric volcano in Gunung Kidul
Wediombo- Siung Beach in Gunung Kidul
A bioturbation site at Kalingalang near Wonosari in Gunung Kidul.
Other sites
Kalisuci Cave in Semanu, Gunung Kidul
Pindul Cave in Gunung Kidul
Jomblang Cave in Gunung Kidul, a pit cave with 2 holes 60 meters and 80 meters deep, where tourists can explore guided by a local tour operator company.
Timang Beach in Gunung Kidul
Krakal Beach in Gunung Kidul
Student Live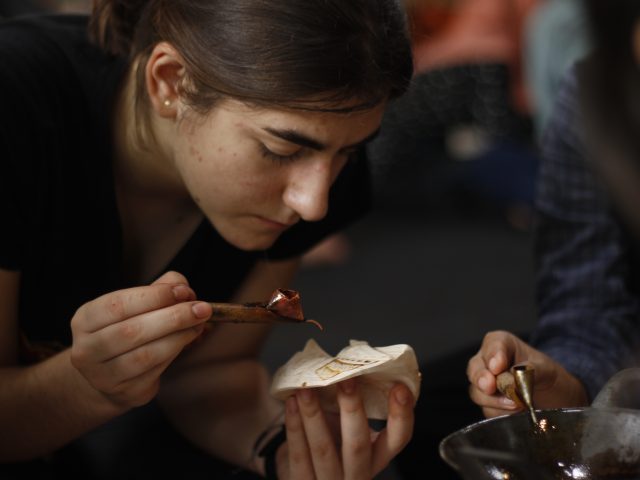 Universitas Muhammadiyah Yogyakarta encourages students to have a good balance between personal and professional life. For this purpose, we help students to set up various student organizations known as student clubs. These student clubs are engaged in both academic and non-academic activities. They are named after their activities: Football Club, English Club, Band Club, Choir Club, Entrepreneur Club, Nature Lover Club, and many others. All students are most welcome to join a club they are interested in.