Study Room Facilities
American Corner UMY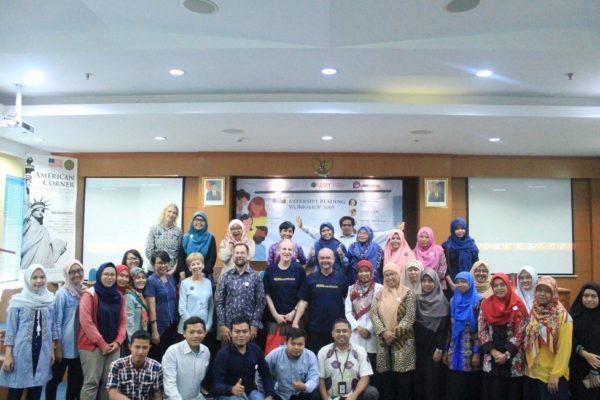 American Corner is a mini-library funded by the US Embassy. Now, American Corner is led by Mariska Intan Sari, S.S., M.A. UMY's American Corner is providing a regular and annual program to address cross-cultural understanding between Indonesia and America. The regular programs currently enforced include: The States, Fun Conversation, Artcor, English Teaching Forum, Islam in America and many more.
For more information about American Corner, kindly visit the website at: American Corner Indonesia
Social Media
Instagram: amcorumy
Facebook: American Corner UMY
Email: umy.amcor@gmail.com
Warung Prancis
Warung French was launched by the Institut France Indonesia as a place of study and culture knowledge provided by the French Government in France.  The regular programs are C'est Facile, Ecoutez, Proverb, Layar Prancis, and so on.
For more information about Warung Prancis UMY, kindly visit the website at: Warung Prancis
Social Media
Instagram: prancis_umy
Facebook: Warung Prancis UMY
Email: warungprancisumy@umy.ac.id
Taiwan Education Center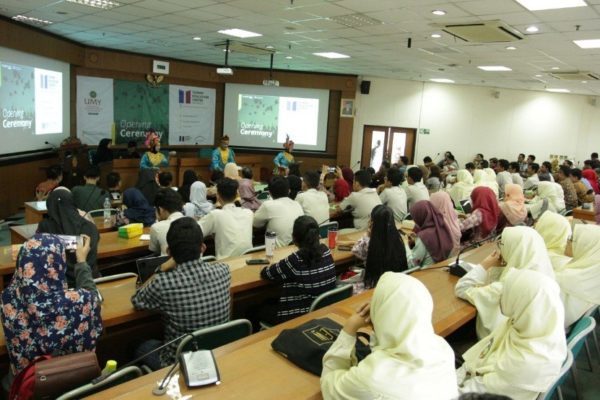 Taiwan Education Center (TEC) Yogyakarta Muhammadiyah University is a non-profit organization fully funded by the Ministry of Education R.O.C. (Taiwan) whose mission is to develop higher education in Taiwan and to improve academic cooperation between institutions in Taiwan and abroad.
For more information, kindly visit the website at: Tec UMY
Social Media
Instagram: tetotec_indonesia
Public Facilities
Professor Guest House (PGH)

UMY Professor's Guest House (PGH UMY) is intended for visiting professors with each program with study welcomed to UMY by each program of study. For more information about PGH, kindly visit this site:
PGH UMY can be reserved for the device concerned by first adding the files as follows:
Photocopy of the identity (passport) of the invited professor (archive);
Application for use of the PGH UMY research programs forwarded to the UMY Cooperation Agency;
Identification of the liaison officer (companion or persons in charge) of the study program (name and contact number);
Info on the arrival and departure of visiting professors.
PGH loans are based on first-come first-serve loans or on proposals and letters to the Cooperation Institution.
For reservations and details, please contact UMY Cooperation Agency at: (0274) 387 656 ext. (188)
Amenities
The facilities provided in each room are as follows:
AC;
En suite bathroom;
Single Bed;
Towel;
Soap;
Welcome drink;
TV 32''
Dispenser;
Refrigerator;
Hot water;
Sofa; and
Microwave
PGH UMY only provides the above listed facilities. All facilities available that be issued upon request and charged according to the price of the products necessary.
Cost:
The following fees are paid to PGH loans:
| | |
| --- | --- |
| Duration | Fee |
| A day | IDR 350.000.- / USD 22.0 |
| A week | IDR 2.205.000.- / USD 136 |
| 2-weeks | IDR 4.410.000.- / USD 271 |
| 3-weeks | IDR 6.615.000,- / USD 407 |
| A month | IDR 8.820.000.- / USD 543 |
UMY Professor Guest House Rules:
Guests are prohibited from bringing a non-married couple in to the room
Male and female visitors in one house must be able to display a marriage certificate;
It is prohibited from carrying sharp guns, liquor and illicit drugs;
It is prohibited to scribble on the walls or stick to any media on the walls;
It is prohibited to make noise inside or outside the room that may interfere with the comfort of guests of the guesthouse;
The guest will get penalties for the replacement of missing or damaged facilities are as follows:
| | |
| --- | --- |
| Facilities | Penalties |
| Hanger | @ Rp.        10.000,- |
| Towel | @ Rp.        40.000,- |
| Doormat | @ Rp.        30.000,- |
| Bed linen | @ Rp.     100.000,- |
| Pillowcase | @ Rp.        20.000,- |
| Remote AC | @ Rp.     100.000,- |
| Remote TV | @ Rp.     100.000,- |
| TV | @ Rp.  2.000.000,- |
| Pillow | @ Rp.        30.000,- |
| Room key | @ Rp.        25.000,- |
| Blanker | @ Rp.      150.000,- |
| Sofa | By Negotiation |
| Microwave | By Negotiation |
| Dispenser | By Negotiation |
The PGH UMY Check in and Check Out times are as follows:
Guest Check in: 12.00 WIB
Guest Check Out: 12.00 WIB
All sorts of garbage must be disposed of outside the room. The trash bins are put in the corner of each room.
Please turn off the AC any time you leave your room.
Other Information:
Opening hours of front office
Monday-Friday 08.00-15.00 WIB
Saturday 08.00-13.00 WIB
Laundry
Dirty clothes can be placed in the lockers at 19.30 WIB-21.00 WIB.
Clean clothes can be taken in the locker at 19.30 WIB-21.00 WIB on the next day.
Please separate between stained clothes and underwear.
The price of the laundry is IDR 5000/kg.
Breakfast
Breakfast is available from 07.00-09.00 WIB.
Breakfast is served outside the room (in the rooms served).
Breakfast Menu: toast, beans, butter, jelly, milk, mineral water / juice, bacon, potatoes.
Room service
Room service is available from 09.00-12.00 WIB on Monday-Saturday.
Room service is offered according to guest requests.
Normal replacement of bed sheets and towels is a minimum of 3 days.
Room service requires toilet washing, trash, furniture and flooring.
The lobby cleaning is done 2 times a day.
Guests can order cleaning services in the room by hanging the "CLEAN UP MY ROOM" sign on the front of door.
Library Center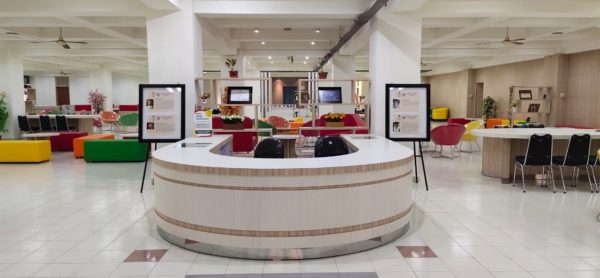 Fitness Center
Sportorium
Student Center
Library Corner (Libcor Café)