29/01/2020-07/02/2020- UMY recently expands its new collaboration with several South African institutions with regards to support and access to university networks. The Muslim Judicial Council (MJC) is the first academic partner with the signing of an Memorandum of Understanding between the two organizations than signed by Shaykh Irfan Abrahams as President of MJC Cape Town and Dr. Ir Gunawan Budiyanto, M.P., IPM as Rector of Universitas Muhammadiyah Yogyakarta. It will be the gateway for academic collaboration across South Africa.
To become competitive in this new Industrial Revolution, its require efforts far higher than any previous endeavor spanning academia and industry. Besides, UMY offers education opportunities to several South African universities and MJC was interested in learning how the two countries could further develop trade relations, particularly in the Halal industry.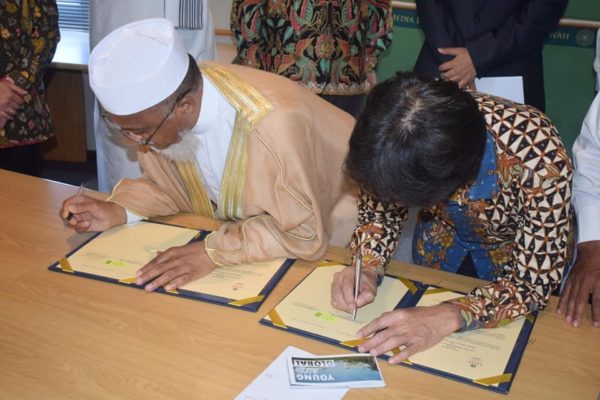 As part of the partnership, the other universities which have committed to Joins: Cape Town, University of Western Cape, and International Peace College South Africa (IPSA) are participating. Additionally, a new collaboration that has been set up to support students, lecturers and professoriate initiatives through signed a stakeholder agreement that collectively supports vast academic programs.
UMY's delegation was accompanied by the Indonesia Consul General Hon. Muhamad Siradj Parwito, Dr. Gunawan Budiyanto as Rector of the University Muhammadiyah Yogyakarta, who encouraged South African Muslims to apply for undergraduate and postgraduate studies at UMY. Dr. Gunanawan said he was delighted to mark the signing of the agreement, calling it "a watershed moment in our relationship and partnership in South Africa" he added. This activity also attended by Prof. Hilman Latief, Ph.D. as Vice-Rector for Student, Alumni, Al-Islam, and Muhammadiyah Movement Affairs, and Dr. Mukti Fajar, ND, SH., M.Hum.
Eko Priyo Purnomo, M.Si., M.Res., Ph.D. as Executive Director of Cooperation and International Affairs, also expand the network by promoting UMY's program for international partners, such as staff and student exchange program, visiting fellow and scholarship offered by UMY for international students within his activities. He considered that this is one of the most effective ways to approach and invite the partners to partake in this enormous opportunity.
For several days, The visit has developed a framework agreement for providing opportunities for students that strengthen the capabilities of both institutions. Formalizing the collaboration, Muhammadiyah will be visiting various countries in Southern Africa to encourage students to become part of vast academic programs. The overall objective of the International Network is to further collaborate within higher education towards an increase in knowledge and awareness of the significant global challenges.