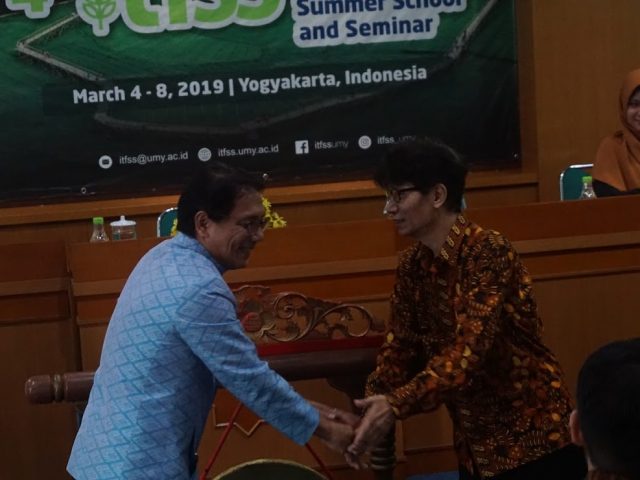 Faculty of Agriculture Universitas Muhammadiyah Yogyakarta (UMY) held the 4th International Tropical Farming Summer School (ITFSS) 2019 opening ceremony at the Amphitheatre Pasca Sarjana UMY on Monday (4/3). ITFSS held four-day program started from 4-8 March 2019.
ITFSS invited Ambassador of Thailand to Indonesia H.E. Songphol Sukchan to give a welcoming speech at the opening ceremony. Prof. Dr. Achmad Nurmandi, M.Sc, Vice Rector for Cooperation and International Affairs, and Ir. Indira Prabasari, M.P., Ph.D., Dean of Faculty of Agriculture UMY also give a welcoming speech for all the ITFSS's participants coming from various universities and countries.
ITFSS has seven course topics including farming in tropical area, land use for tropical farming at mount Merapi, tropical cropping system, land use for tropical farming at coastal area, tropical AeroSystems, integrated farming system and presentation to agrotechnology student, and bioenergy theoretical perspective.
ITFSS starts the other UMY's summer schools in 2019. However, UMY has 10 summer schools which are International Dental Summer School (IDSS), International Tropical Medicine Summer School (ITMSS), International Nursing Summer School (INSS), International Emergency Nursing Camp (IENC), International Pharmacy Summer School (IPSS), International Tropical Farming Summer School (ITFSS), International Training for Young Islamic Economic Leaders (ITYIELds), Customized Cultural and Exchange Program, International Government and Politics Summer School (IGoPSS). (mmi)