Student Exchange Program Euphoria in the Bull Skin (La Piel de Toro) Country
Everybody knows about Spain, a country called La Piel de Toro (The Bull Skin) since it is often associated with extreme activities, such as bullfighting. Football lovers worldwide definitely know about Spain since ​​the two most prominent and hottest soccer clubs in the world, Real Madrid and Barcelona, are located in the country. The name of Spain has absolutely been engraved in historians' minds since the Spanish Empire, the first truly global empire of the world, left many essential legacies in various corners of the earth. For the Polyglot, mastering Spanish is an obligation because it is the second in terms of the most spoken languages. Moreover, many parts of the world speak the language (as the official language of 20 countries and non-official but often used in the United States, Belize, Andorra, and Gibraltar). In the heart of artists, Spain can not be neglected. As a matter of fact, the beauty and uniqueness of Spanish poetry, drama, cathedral architecture, sculpture, painting, music, and literature have contributed to a large influence in the world of art. There are abundant examples of Spain's greatness, but it will not be sufficient to recount in this short writing.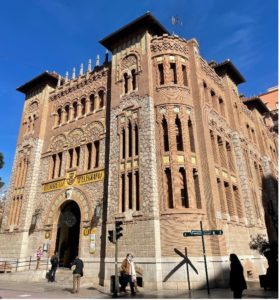 My name is Mahbi Maulaya, a third year student of International Relations at Universitas Muhammadiyah Yogyakarta (UMY). I was a kid when Spain won the FIFA World Cup in 2010. From that moment, my curiosity for Spain has started. I was looking for everything about Spain, and it makes me know how great the country is. After learning how remarkable Spain is, my curiosity invites my admiration for Spain. Unfortunately, my admiration did not lead me to hope that I can visit Spain someday. I cannot imagine how I can go to Spain, which the distance from Indonesia is so far away and the living cost is significantly higher. Fortunately, my pessimistic view has been eliminated in November 2020, when the International Relations Office announce that I have been selected for the Spring Semester Exchange Program at Universitat Jaume I (UJI), Spain.
I was on cloud nine when I saw the announcement. Nevertheless, my happiness was accompanied by a sense of worry about various twists and turns of the struggle that must be passed to finish the program entrusted to me. Furthermore, my departure to Spain brought the good name of both the campus and the country. If I fail and act unprofessional, my campus and country's name will definitely be affected badly. However, my race of concern did not have a negative outcome but instead had a positive effect where it makes me more serious and careful to take care of my departure. After the announcement was released, I immediately prepared for my departure to Spain.
My early preparation was to 'make myself able to survive abroad.' I learn how to cook, study the background and the characteristic of Spain, understand the procedure to travel internationally, and many little things we should have if we want to study abroad. A few weeks later, I was contacted by the Oficina de Relaciones Internationales of UJI. They give me a guide to register officially at their university and also a letter to apply for Visa.
The next step of my preparation was to purvey my Visa application. I was a little overwhelmed with the Visa application requirements since many documents must be completed. After going through a long journey, my Visa was issued by the Spanish embassy on March 8, 2021. A day after, I immediately fly to Spain.
It took 8 hours to fly from Jakarta to Doha. In that capital city of Qatar, we spent 8 hours waiting for the departure to Barcelona. While on the plane, we were so excited headed to the city where the legendary football club Barcelona lives. When we were getting close to the city, we can see rows of hills fencing off the city. The buildings are neatly arranged, lined up in a straight line with each other forming a wonderful pattern when viewed from above.
When we got off at the airport, everything was Spanish. Spanish-language instruction boards adorn the walls. Instructions with Spanish from the airport staff were echoing in every corner of the airport. Arriving in Barcelona does not mean the trip is over. We had to find a train to go to our final destination, Castellon de la Plana.
It took about two hours to arrive in the city where UJI is located. The train travel gave me so many fantastic views. I can see many things like some beautiful garden, hills, traditional village, beach, etc. When I came out of Castellon station, that was the time when I really felt relieved. I finally arrived safely at my final destination!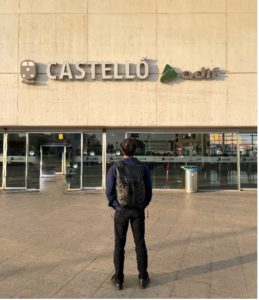 Castellon de la Plana, a 188 years provincial capital, is a perfect city. Plenty of historical legacies can be found in many places. The city design is very neat and comfortable. The old architectural design still exists in its buildings. The streets are flawless. The sidewalks are wide and exist everywhere, so the city is amiable for pedestrians. There are many large and beautiful gardens. The people are warm-hearted. Most interestingly, the food price is quite affordable. You can buy a big bread, one big board of chocolate, 8 liter of water, 1 kg rice, or 12 eggs for approximately 1 or 2 Euro (for each one of them). All of these facts make the city is very suitable for university students.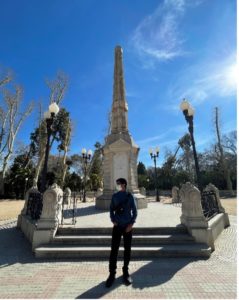 A day after arriving in Castellon de la Plana, I finally went to UJI, my new university. When I was at the UJI gate, it did not take much time to fall in love with the atmosphere and greatness of this campus. The buildings of the campus are so elegant. The academic vibes are so bold when I saw students talking seriously and reading books in the park. At that moment, I could not wait to begin my study on this prestigious campus with many amazing lecturers and also colleagues.
I would like to convey my thanks to Allah, who makes me able to set my foot in this 'land of the setting sun,' Spain. I am here because of His countless help and guidance. I thank my parents and my brothers and sisters, who have contributed enormous supports for me. I will dedicate my hard work and achievements to them first. Thank you to Mr. Jordan Gunawan and his team at the International Relations Office of UMY for giving me the opportunity to represent our campus at UJI. Without their hard work, studying at UJI will only rest as a dream in my mind. I send my next thank to Mrs. Berta Duran and her team at Oficina de Relaciones Internationales of UJI. They give me a warm welcome, various help, and explicit instructions so that I can arrive in Castellon and run my study well at UJI. After that, Professor Jacob Guinot also the one who should receive my thank. He has helped me a lot to design my academic activity at UJI. I am so happy to have him as my academic tutor. Last but not least, thanks to all of my friends who always cheered me on.
That is all my story. I hope you guys can get benefit from it. For UMY students, come and join the UMY Mobility Program. There are many parts around the globe that you should see. There are many things that you should get when youth still in your body. And our campus has facilitated us for it. Be the next one to tell your story here. Let us make our campus' name blooming fragrant!
– Mahbi Maulaya, Castellon de la Plana, March 14th, 2021.