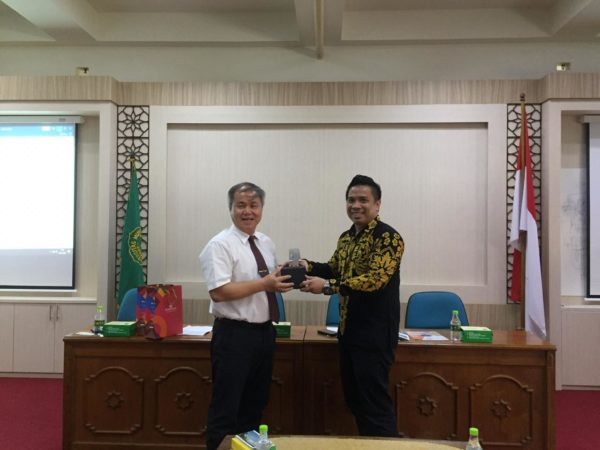 As a worldwide university, Universitas Muhammadiyah Yogyakarta (UMY) had received another visit from a university located in Taiwan. This time, to introduce more about their campus, the National Kaohsiung University of Science and Technology (NKUST) visited UMY on Friday, (31/1). The meeting was held in the Law Faculty Meeting Room and warmly welcomed by the Director of Office of International Affairs, Yordan Gunawan, S.H., MBA, M.H.
NKUST's representative are Dr. Huang Yi Chun, Head of Cooperation and International Affairs, Dr. Kao Jui Chung, Deputy Head Cooperation and International Affairs, Meng Chun Huang and Tiara Cornelia, who are both Assistant Cooperation and International Affairs.
This meeting was also welcomed by deans of the UMY faculty, who also wanted to discuss the collaborative programs that could be implemented at NKUST. The activities that can be a partnership between the two universities are student mobility, summer programs, and 3 + 2 programs, namely three years studying for undergraduate programs at UMY and two years studying for master programs at NKUST.
NKUST also offers a scholarship program for International Students. Undergraduate application for USD 1,200 per year + Tuition & Credit Fee Waiver, Master program for USD 2,400 per year + carrying on Master study USD 167 for once + Tuition fee & Credit Fee Waiver, and Ph.D for USD 4,800 per year + living subsidy by academic adviser + Tuition & Credit Fee Waiver.
All Deans have agreed to collaborate in various faculties with the National Kaohsiung University of Science and Technology. Both universities will continue to follow this opportunity. (hnl)