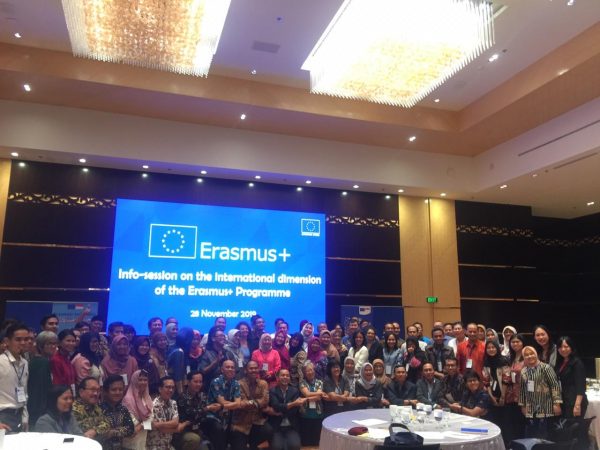 Thursday (28/11), The European Union (EU) conducted a socialization in Menara Astra, Central Jakarta on International Dimension of the Erasmus Plus Program.
Vincent Piket, European Union Ambassador to Indonesia, officially opened the event and Purwanto Subroto, Head of Sub-Directorate of the Ministry of Education and Culture of the Republic of Indonesia for Higher Education Cooperation, also attended the event.
"We are pleased to announce the opportunity to apply proposals and funding opportunities through the Erasmus Plus flagship program, which is available to universities worldwide, including in Indonesia," Vincent said in his remarks.
"EU and the government of Indonesia have the same vision of advancing higher education quality and capacity, and we are committed to supporting Indonesia in achieving this agenda," he added.
The Republic of Indonesia's Ministry of Education and Culture appreciates the European Union's assistance in the development of tertiary institutions in Indonesia.
Purwanto Subroto said he hoped that Erasmus Plus would not only inspire Indonesian universities to improve their international experience abroad but would also be able to present international experience in the home country of Indonesia.
"We have seen the success of the Erasmus Plus Summer Program and the Double Degree Program running in a variety of tertiary institutions in Indonesia. Besides, we hope to see wider opportunities for two-way, mutually beneficial and reciprocal mobility programs for both parties, "he said.
Approximately 100 representatives from all over Indonesia participated in the socialization event, including representatives from Universitas Muhammadiyah Yogyakarta.
Erasmus Plus is an EU-funded program that provides funding through various institutional development programs and human resource ability to higher education institution in Indonesia.
Among the Erasmus Plus Programs offered to support higher education institutions such as the Capacity Building in Higher Education (CBHE) program, the Erasmus Mundus Joint Master Degree (EMJMD) and Jean Monnet and International Credit Mobility (ICM). (hnl)